Bamboo Create
Pen tablet and digital painting software
Whether you are looking to communicate visually with sketches and diagrams, enhance and edit your photos, or pursue artistic interests such as drawing, painting, or animating, Wacom Bamboo tablet is the right tablet for you.
Overview
Inspire. Create. Imagine. The Bamboo Create pen tablet opens up a new world for digital art and photo projects. With twice the workspace of other Bamboo tablets, Bamboo Create gives you plenty of space to express yourself, enabling broad brush strokes or arm movements.
Let your imagination soar as you freely and naturally draw, paint, doodle and sketch in your favorite software. Use software applications like Adobe® Photoshop® Elements, Corel® Painter™ Essentials, and Autodesk® SketchBook® Express (included with your purchase) to explore a variety of digital media, including pencils, pens, markers, chalks, watercolors, oil paints and more. Your pen gives you the feel of working in natural media.
Bamboo Create is perfect for art projects that require a larger digital canvas. Turn digital images into special mementos. Use the pen to add hand-drawn embellishments or journaling to your projects and photos. Create unique, personal invitations, greeting cards and photo books to print and share digitally with friends and family.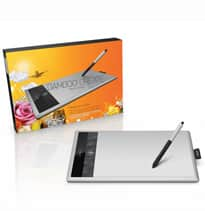 What's Included
Bamboo Create Pen and Tablet
Full software bundle: Corel® Painter™ Essentials, Adobe® Photoshop® Elements, Autodesk® SketchBook Express and Nik® Color Efex Pro™ 3.0.
Includes 26-lesson training DVD on how to use Adobe Photoshop Elements and Corel Painter Essentials, plus a library of digital embellishments and borders
Removable USB connection cord
Nib puller and 3 replaceable pen nibs
Ergonomic, battery-free pen with two programmable switches and eraser
Quick Start Guide
Installation CD (includes driver software, Bamboo Dock, interactive tutorial and user's manual)
Features
Precision pen input with 1024 levels of pressure sensitivity
More than twice the size of other Bamboo tablets
Four programmable ExpressKeys™ for personalizing your tablet and adding shortcuts
Multi-touch functionality gives you easy-to-use hand gestures
Attached pen holder for convenient pen storage
Full-version creative software included in-box: Corel® Painter™ Essentials – leading digital painting software, Adobe® Photoshop® Elements – leading photo editing software for retouching and having fun with photos, and Nik® Color Efex Pro WE3 – simple filters for color enhancements, and special Autodesk® SketchBook® Express – leading sketching app for visualizing your ideas, light sketching and doodling
Includes 26 "How To" lessons for crafting and memory making, plus a library of digital craft embellishments
Reversible for right- or left-handed users
Standard USB connection for both Mac and PC
Tech Specs
Microsoft® Windows® 8
Windows 7
Windows Vista SP2
Windows XP SP3
Mac OSX (10.5.8+ or higher)
USB port
Color display
CD/DVD drive
Internet access