Complete protection for Windows, Mac OS, iOS and Android
Unbeatable malware detection
Better privacy with Webcam Protection 

New

Multi-layer ransomware protection to keep your files safe
Optimized speed and cross-platform performance
Comprehensive Support 24/7
Multi-Layer
Ransomware Protection
Bitdefender Total Security 2018 delivers multiple layers of protection against ransomware. It uses behavioural threat detection to prevent infections, and protects your most important documents from ransomware encryption. With Bitdefender Total Security 2018, you can stop worrying about losing your data or money, and start enjoying life.
Advanced Threat Defense
Safe Files
Total Protection on Windows
Mac OS, iOS and Android
Bitdefender Total Security includes protection for multiple
operating systems. Select an OS below to find out more:
Protection
Complete Data Protection
Advanced Threat Defense
Multi-Layer Ransomware Protection
Anti-Phishing
Anti-Fraud
Safe Files
Secure Browsing
Rescue Mode
Performance
Bitdefender AutopilotTM
Bitdefender PhotonTM
Battery Mode
Global Protective Network
Game, Movie & Work Modes
Privacy
Webcam Protection
Safe Online Banking
Parental Advisor
File Shredder
Privacy Firewall
Social Network Protection
Password Manager
Vulnerability Assesment
Take a Look Inside

Protection
---
Complete Data Protection
Absolute power in the most efficient antivirus available today. Bitdefender Total Security 2018 works against all threats – from viruses, worms and Trojans, to ransomware, zero-day exploits, rootkits and spyware. Your data and your privacy are in good hands.
Advanced Threat Defense 
New
Bitdefender Total Security 2018 uses a technique called behavioral detection to closely monitor active apps. The moment it detects anything suspicious, it takes instant action to prevent infections.
Webcam Protection 
New
Protect your privacy and prevent webcam leaks. Webcam Protection notifies you when apps try to access your webcam, and lets you block unauthorized access.
Multi-Layer Ransomware Protection 
Improved
You can place sensitive documents under multiple layers of protection, so they are safe from malicious encryption programs that demand ransom on your personal files.
Anti-phishing
Bitdefender Total Security 2018 sniffs and blocks websites that masquerade as trustworthy in order to steal financial data such as passwords or credit card numbers.
Anti-fraud
Our advanced filtering system warns you whenever you visit websites that may try to scam you, such as casinos, porn sites, money loan schemes and others.
Safe Files 
New
With Bitdefender Safe Files you can prevent unauthorized changes to your most important files. You simply add folders to the watch list, and Bitdefender guards the files stored in them against ransomware and other types of malware. Only applications that you explicitly trust are allowed access to your Safe Files.
Secure Browsing
Find out whether your search results are safe to access before you actually click on a link. Bitdefender Total Security 2018 also blocks known infected links.
Rescue Mode
Some sophisticated viruses, like rootkits, need to be removed before Windows starts. When Bitdefender Total Security 2018 detects such threats, it reboots the computer in Rescue Mode for clean-up and restoration.
Anti-Theft
Bitdefender Total Security 2018 packs effective anti-loss and anti-theft tools for your Windows laptop or tablet, remotely accessible from anywhere in the world via your web Bitdefender Central account.

Performance
---
Bitdefender Autopilot™
Once switched on, Autopilot will run your entire cyber-security by itself. It makes optimal security decisions without asking for your input through nagging pop-ups and dialog boxes. Nothing to set up, nothing to configure.
Bitdefender Photon™
This innovative, exclusive technology helps Bitdefender Total Security 2018 adapt to the hardware and software configuration of your system in order to save computing resources and improve speed and performance.
Global Protective Network
Most of the heavy scanning takes place in the cloud, so there is virtually zero impact on your local resources. This means your system's speed and performance remain unaffected. And your files always remain completely private: we do not scan the actual contents of your files, and we never upload or store them in the cloud.
Game, Movie and Work Modes
Bitdefender Total Security 2018 detects when you play, work or watch a movie, so it knows not to bother you with unnecessary requests. This way, you can focus on what's important. Depending on what you choose to do on your computer, Bitdefender temporarily halts pop-ups, adjusts visual settings, and pauses unimportant background activities to allow you to enjoy your device to the max.
Battery Mode
This useful, intelligent feature saves battery life for laptops and tablets by temporarily tweaking system settings such as display, system cooling, system updates or Bluetooth connectivity.

Privacy
---
Worry-free and fast online
Bank and shop from a unique, dedicated browser that secures your transactions to prevent fraud. Bitdefender Safepay can now also automatically fill out credit card details in billing fields.
Parental Advisor 
Improved
With Parental Advisor, you can discreetly supervise your children's online activities to keep them safe. Filter out inappropriate content and control online time for each child's account. Simply log in to your web Bitdefender Central account from anywhere, and keep up with your kids' location or activities.
Privacy Firewall 
Improved
With Bitdefender Total Security 2018 you get a powerful layer of network protection, so your personal information stays safe from hackers and data snoops.
Social Network Protection
Stay safe from malicious links and any threats that your friends unwittingly pass on to you via Facebook, Twitter, Pinterest or other social networks.
Password Manager 
Improved
Store your passwords, credit card information and other sensitive data in a secure vault for easy access whenever you need them. Password Manager gives you the option to autofill online forms and can even recommend secure passwords.
File Shredder 
Improved
Use this tool when you wish to delete a file for good and leave no traces that it ever existed on your PC.
Bitdefender Autopilot™
It's pure freedom: just turn Autopilot on and it will run all your cyber-security by itself, hassle-free. Without pop-ups, dialog boxes or hundreds of options to go through, you'll be able to focus on your work and on having fun.
Quick Risk Checker 
Improved
Scan for security holes and vulnerabilities with just one click. Bitdefender checks your PC for outdated and vulnerable software, missing Windows security patches and potentially unsafe system settings, and will indicate the best fix.
Are You Willing to Risk Your Home Privacy?
Bitdefender Total Security 2018 puts your privacy first. It prevents unauthorized access to your webcam and
allows you to enjoy life safe from prying eyes.
ONE PRODUCT
that covers all your security needs
With Bitdefender Total Security 2018 you get 4-in-1 security for Windows,
Mac OS, iOS and Android, at a price that beats any other offer.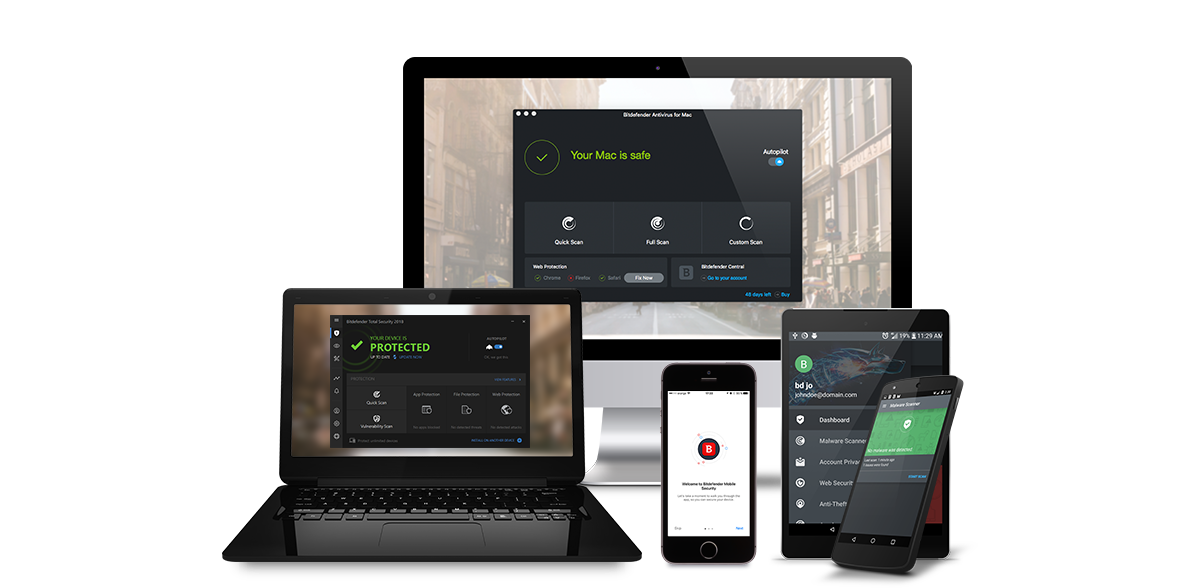 Security for multiple devices
One account to protect what matters
Activate Bitdefender protection on your devices
Manage from your browser and iOS or Android phone

NEW

Get security updates 24/7
Get direct access to our support team
Choose the Best Security, and Never Worry Again

Continuous Updates
Bitdefender Total Security 2018 is designed to protect you against the most advanced cyber threats on the planet. Continuous updates come with every Bitdefender product, and accelerate the introduction of new features and simplify updating, upgrading and installing Bitdefender security.

Continuous Protection
Our continuous protection service* is designed to save you time and effort, and reduce risk of infections by automatically renewing your subscription. It's a hassle-free way to eliminate any possible lapses of security between subscription periods, therefore ensuring your devices, files and identity are always protected.
*Continuous Protection is an opt-out service that you can turn off any time you want.
Protection for the entire family
Parental Advisor keeps you in the loop about your
children's online activities.
 Keep track of them on Windows, Mac, iOS and Android.
 Shield your children from inappropriate content.
 Block disturbing phone calls and SMS messages.
 Always know where your kids are when they use a mobile device.
 Have your children use the Parental Advisor mobile app on their smartphone to check in as 'Safe'.
And you also get automatically notified when they enter a restricted area.
Simply log in to your web Bitdefender Central account from anywhere, and keep up with your kids' location or activities. For more details, click here.

BUY NOW