Bundle: Wacom Intuos5 Large Tablet + Corel Painter 12
Professional pen tablet
An all new pen tablet experience with the leading digital art software! The Intuos5 is the ideal choice for creative professionals and anyone with a creative passion for photography, art or design.
See available Painter 12 and Wacom Tablet bundles.
Overview
The Wacom® Intuos5 Large Pen Tablet lets you take your art to the next level by turning on the full power of Corel® Painter™ and over 100 other leading software applications. For creative professionals such as photographers, designers and illustrators or anyone who desires professional results, the Intuos5 touch Large Pen Tablet combines Wacom's most advanced pen technology with multi-touch functionality. Natural and intuitive to use, the tablet lets you alternate between using multi-touch gestures to position and navigate your artwork and the pressure-sensitive pen to sketch, paint, retouch, and edit.
With 102.4 square inches of working area, the largest of the three Intuos5 touch models is preferred by those who work in large format or large dual displays. The large size is built with eight ExpressKeys and the same intuitive multi-touch surface as the other sizes of Intuos5 touch.
Virtual Tour
Bundle up and Save!
Save up to 40% with these amazing bundle deals on Corel Painter 12 and a Wacom Intuos5 or Cintiq tablet.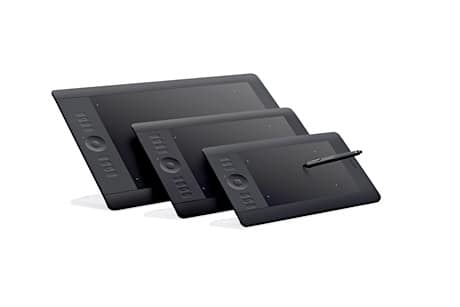 What's Included
Painter 12 (Windows/Mac) download version
Intuos5 large pen and touch tablet
Intuos5 Grip Pen
Pen stand (Pen nibs are stored inside)
Ten replacement nibs (five standard nibs, one flex nib, one stroke nib, and three hard felt nibs)
Pen nib removal tool
6.5 ft (2.0m) USB cable
Quick Start Guide
Installation CD (includes tablet driver software and electronic user manual)
Features
The Human Touch
The addition of Multi-Touch to the Intuos5 gives you an alternate input method. It's natural to use and the perfect complement to the pen in your creative process. Totally immerse yourself in your creative work as you use one hand to pan, zoom and rotate your canvas, and then use your pen to precisely create your work.
Keep Your Eyes On Your Work
With Intuos5, set-up the ExpressKeys™ for your own unique configuration of time-saving shortcuts and modifiers. If you ever need a reminder of an ExpressKey function, lightly rest your finger on the capacitive ExpressKey, and see an instant, on-screen reminder of the key's function.
Wireless Capability
Intuos5 brings natural pen control to your PC or Mac through a single USB connection. If you prefer, any size Intuos5 tablet can be easily converted to an RF wireless connection with the Wacom Wireless Accessory Kit (sold separately at Wacom's online store). (Availability in Latin America varies depending on country.)
Professional Pen Performance
In order to simulate traditional pens, markers and brushes, the Intuos5 Grip Pen features 2048 levels of pen pressure sensitivity as well as pen tilt recognition. Varying the pressure of the pen against the tablet can create variations in line width and opacity or can be used to create unique brush effects.
Modern Ergonomic Design
The innovative design of Intuos5 features soft-touch, matte-black finish with illuminated accents. The ergonomic design allows you to flip the Intuos5 tablets in either direction to suit left-handed or left- or right-handed use. Available in three wide-format sizes, small, medium and large, you can choose the perfect size to fit your specific working style and workflow needs.
Wacom Tip Sensor
Featuring Wacom's innovative pen tip sensor, Intuos5 captures the slightest nuance of pen pressure starting with only a single gram of pressure. With every stroke, Intuos captures even the most subtle nuances of pressure, giving you the creative power to dynamically adjust exposure, brush size, line weight, opacity and more by pressing harder or softer with the pen.
Customizable ExpressKeys™
With the Intuos5 ExpressKeys™, you will work smarter, not harder. Use the default short cuts already set to the ExpressKeys, or set your own application specific shortcuts. Combined with the on-screen ExpressView, you will have easy reference to all your short cuts, so you can fly through your work more intuitively than ever.
Multi-Function Touch Ring
A favorite feature among Intuos users, the finger-sensitive Multi-Function Touch Ring provides you with control of up to four-user defined functions such as scrolling, zooming, brush size and canvas rotation.
Convenience
The lightweight pen stand not only provides a convenient pen holder, but also functions as a handy twist-off storage compartment for pen nibs and handy nib removal tool. Standard, felt, stroke and flex nibs ship with the Intuos5, allowing you to simulate working with a variety of traditional art and design materials.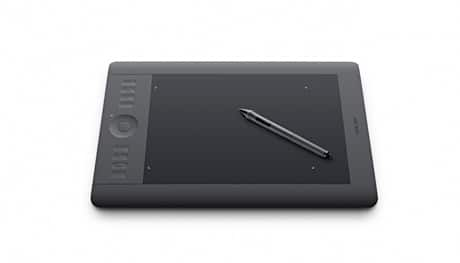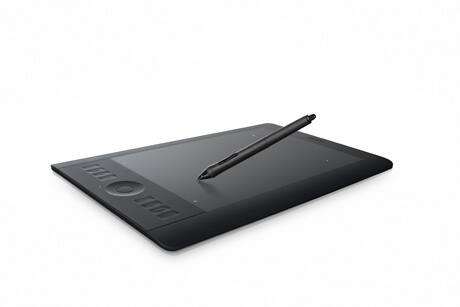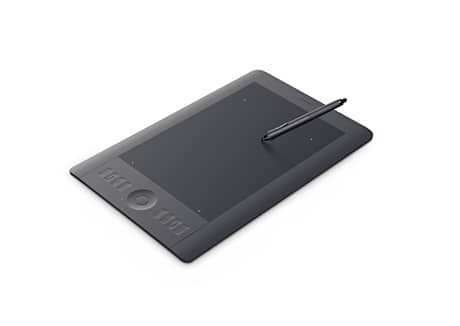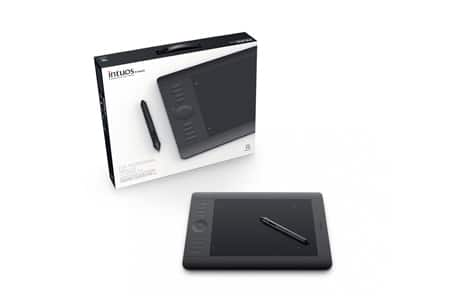 Large Intuos5
Microsoft® Windows® 8
Windows 7 SP1+
Windows Vista SP2
Windows XP SP3
Mac OSX 10.5.8+ (with Intel Processor)
USB port
Color display
CD/DVD drive
Internet access
Painter 12
Windows®
Microsoft® Windows® 8, Microsoft® Windows® 7 or Windows Vista® (32-bit or 64-bit editions), or Windows® XP (32-bit edition), with the latest Service Packs installed
1 GHz processor or higher
1 GB RAM
600 MB hard disk space for application files*
1280 x 800 screen resolution
Mouse or tablet
DVD drive
Microsoft® Internet Explorer® 7 or higher
* Additional space may be required for Microsoft .NET Framework 4.0
Macintosh®
Mac OS® X 10.5, 10.6, 10.7 (with latest revision)
Intel® Core™ Duo
1 GB RAM
300 MB of HD space for application files
1280 x 800 screen resolution
Mouse or tablet