Flash Objects Vol. 1
for Corel® VideoStudio® Pro X4 / VideoStudio® Pro X4 Ultimate / VideoStudio® Pro X5 / VideoStudio® Pro X5 Ultimate
This Flash object collection includes:
Six background animations
Eleven floating and falling objects
Eleven animated frames
When it comes to celebrating life's precious moments, VideoStudio® Pro X4 and VideoStudio® Pro X5 makes it easy to capture and edit a video with all the joy, drama and fun around us to share with family and friends. With a variety of video templates, royalty-free music, and bonus training videos in VideoStudio® Pro X4 and VideoStudio® Pro X5, you can create incredible and entertaining HD movies fast regardless of your skill level.
When you want to take your videos further, however, adding Flash animations and objects is a great way to achieve so. Corel now offers a few sets of Flash objects for you to combine into your video projects. Amaze your audience with the unique and fun effects today!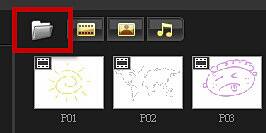 Unzip the pack and you will see all the swf files are in the folder. In VideoStudio, click "Import media file" button to import them into the media library for further use.
Work for Corel® VideoStudio® Pro X4, Corel® VideoStudio® Pro X4 Ultimate, VideoStudio® Pro X5 and VideoStudio® Pro X5 Ultimate.