Paint it! (Windows/Mac)
Photo painting software that's fun for all ages
Turn your photos into beautiful paintings in just three easy steps with Corel® Paint it!®. This fun photo painting software takes your favorite photo memories and magically transforms them into unique, hand-painted works of art. Simply choose a painting style and pressStart Photo Painting. Then add fun effects to make it truly yours. Save, print, share online or frame your photo art creations. Voila, it's your life, automagically painted!
OverviewFun for the entire family, Corel Paint it! gives you a whole new way to enjoy your photos. This photo painting software includes multiple painting styles, brushes and realistic effects that let you add a personal touch to any creative project. Much more than a photo-painting filter, Corel Paint it! relies on your input, letting you control the photo painting process while encouraging your creative spirit. Start and stop painting at any time, restore original details from the photo and add your own special touches. The result is a hand-painted portrait that's sure to wow your friends and family.
Ideal for:
Any wall in your home or office
Scrapbooks and albums
Email and online sharing sites
Gift giving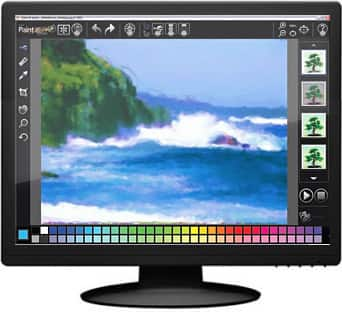 Personal, painted art in minutes
Automatically turn your photos into beautiful paintings that uniquely express your favorite moments in life.
An authentic, hand-painted look—effortlessly
Create an authentic-looking photo painting every time with smart auto-painting technology that mimics how a real artist would paint.
Fun for all ages and skill sets
Produce beautiful, personalized results, whatever your age or experience.
Easy creative effects
Play with the Fire Brush, Fairy Dust, Pattern Pen, Leaf Brush and other fun effects to spice up your photo painting in seconds.
Compatible with popular photo-editing software
Open photo files that were created in other programs and, once you've worked your magic, save your new paintings in a format that can be opened and shared anywhere. Your original photo file is always preserved.
The end is just the beginning
Save, print, publish or frame your painted memories to share with others so the magic lives on!
---
Turn your photo into a painting in just three easy steps with Corel Paint it!
Features
Sit back and watch Corel Paint it! transform your photo into a painting, right before your eyes! Whatever your hobby, interest, skill level or motivation, Corel Paint it! lets you create beautiful photo art in just minutes. It's easy and fun, and your masterpieces will be perfect for jazzing up that scrapbook, family album, greeting card or any other visually creative endeavor.
Turn your photo into a painting
It all starts with a photo. Whether it's a snapshot of a baby or other loved ones, a cherished pet or a stunning landscape, all you have to do is choose a photo to get started. Then simply pick a painting style.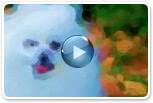 Painting styles
The Photo Painting panel is located on the right side of the workspace and provides several preset painting styles. All of the painting presets pick up color, intensity and lightness from the original photo, then apply brushstrokes in the style that you choose.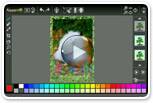 Oil – applies a combination of short dabs and longer brushstrokes to produce the color and texture of oil paint
Impressionist – applies short and very visible brushstrokes to create the illusion of movement and light
Modern – applies bold brushstrokes and adds vibrance to colors to produce an abstract reinterpretation of a photo
Illustration – applies a wide variety of brushstrokes to produce an illustration-style painting
Detailed Watercolor – applies a translucent wash to produce the smooth, soft effect of watercolor paint on your photo
Watercolor Sketch – applies a combination of drawn lines and watercolor brushstrokes that add depth, texture and contrast
Colored Pencil – applies fine-tipped colored pencil strokes
Pencil – applies graphite pencil strokes that appear to be drawn by hand
Pen and Ink – applies sketchy strokes with a pen and black ink that appear to be drawn by hand
Pastel – applies colored pastel strokes that appear to be drawn by hand
What's Included
Corel® Paint it! for Mac OS® or Windows®
Getting Started Guide (PDF)
Help files (HTML)

---
Corel Paint it!—from photo to painting in three easy steps!
System Requirements
Mac OS®
Mac OS X 10.5 or 10.6 (with latest revision)
Intel® Macintosh®
1 GB of RAM
24-bit color display
1024 × 768 screen resolution
140 MB of hard disk space for installation
Mouse
Windows®
Windows XP®, Windows Vista® or Windows® 7 (with latest Service Pack)
Pentium® IV, 700 MHz or greater
1 GB of RAM
24-bit color display
1024 × 768 screen resolution
140 MB of hard disk space for installation
Mouse