Experience all the advantages of direct pen-on-screen input in a low profile, lightweight design! At just 4.4 pounds, the new Cintiq 12WX combines the advantages of a wide-format LCD monitor with Wacom's patented, professional pen technology to give you the perfect companion for your Mac or PC. The Cintiq 12WX offers a 12.1″ TFT display and integrates seamlessly into multi-monitor environments to supplement a primary display or to control other displays. Alternatively, you can use the Cintiq 12WX as a stand-alone display. Included with each Cintiq 12WX: Cintiq 12WX Pen Display Video Control Unit Grip Pen Five Replacement Pen Nibs (three standard nibs, one felt nib and one stroke nib) Video Control Unit DVI, VGA, USB, and Power Cables Power Adapter User Manual Installation CD (includes Wacom driver software and electronic software manual) Application DVD (includes application software) Specifications: Overall Dimensions: 16″ W x 10.5″ H x .67″ D Screen Size: 12.1″ diagonal Aspect Ratio: 16:10 Weight: 4.4 lbs with video control unit Native Resolution: WXGA (1280 x 800) Rotation: 360 flat position on pivot Take a closer look at the Wacom Cintiq 12 WX Interactive Pen Display.
Wacom Cintiq 12WX Tablet
Lightweight interactive LCD pen display
Experience all the advantages of direct pen-on-screen input in a low-profile, lightweight design! At just 4.4 pounds, the Cintiq 12WX combines the advantages of a wide-format LCD monitor with Wacom's patented, professional pen technology to give you the perfect companion for your Mac or PC.
OverviewThe Cintiq family of interactive pen displays combine the advantages of an LCD monitor with the natural feel and superior performance of Wacom's patented, professional pen technology. By using a pen directly on screen, you work more quickly and naturally with world-class productivity tools that make using a computer as natural as possible.
What happens when you combine new Corel® Painter™ 12software with a Wacom pen? Pure magic.
Blending naturally with Wacom's pen input devices to deliver intuitive workflow and inspiring results, Painter allows artists, photographers, designers and others to explore and express their creative ideas as well as enhance productivity. Wacom's natural, pressure-sensitive pen input solutions are ideally suited for the Painter user. Whether creating a new painting on a digital canvas with some of Painter's unique new artistic media or highlighting a digital photo with inventive pen-supported tools, a Wacom pen input device offers the control and interactivity that Painter users seek.
Sku/Part Number: CINTIQ12WX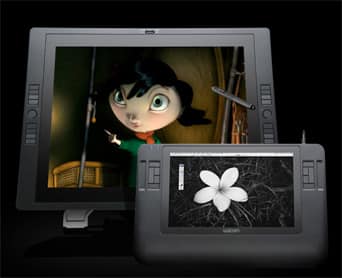 Bundle up and Save!
Save up to 40% with these amazing bundle deals on Corel Painter 12 and a Wacom Intuos5 or Cintiq tablet.
Cintiq 12WX
The Cintiq 12WX has Wacom's most advanced display technology to provide world-class precision and control, making Cintiq products key to a digital experience that is closer to working with traditional materials and tools than ever before.
Pixel-level pen accuracy provides highly precise cursor control. The Cintiq Grip Pen features 1,024 levels of pressure sensitivity on the pen tip and eraser for precise image editing, accurate brush control, and selective application of effects and filters. The result is an amazingly smooth, responsive on-screen experience that mirrors a traditional pen-on-paper feel. Additionally, the cushioned, contoured barrel of the pen has been designed to minimize grip effort for hours of comfortable use.
The Cintiq 12WX has a textured, scratch-resistant surface and is completely flat edge-to-edge, allowing the hand to glide over the entire surface easily, and also has an adjustable stand that allows you to angle or pivot the display to achieve optimal working angles. Strategically-placed, programmable ExpressKeys™ and Touch Strips let you zoom, scroll and activate keyboard shortcuts for even greater speed.
What's Included
Cintiq 12WX interactive pen display
Grip pen
Pen stand
Five replacement pen nibs
DVI-I to VGA cable adapter
DVI-I to DVI-D cable adapter
Converter unit
AC power adapter
Power cable
USB cable
Quick Start Guide and User Manual
Installation CD (includes driver software and electronic manual)
Application DVD (includes application software):

Adobe® Photoshop Elements 6.0 (Windows®/Mac®) – edit, retouch, enhance, organize, and share digital photos
Corel® Painter™ Essentials 4 – create natural media art and turn photos into paintings
Nik® Color Efex Pro 3.0 WE6 – selectively apply lighting and photo enhancements with the pen
Wacom® Brushes 3.0 – 81 customized brushes for use with Photoshop CS+ and Photoshop Elements 4+
What's New
What's New with the Cintiq 21UX (DTK2100)
Slightest Nuance
Featuring Wacom's new Tip Sensor, Cintiq 21UX now captures the slightest nuance of pen pressure, starting with as little as a single gram of force.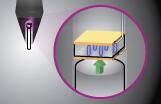 Working Under Pressure
With 2048 levels of pressure sensitivity, you'll feel just like you're working with a traditional paintbrush, marker, pen or pencil. Dynamically adjust exposure, brush size and line weight simply by varying the pressure of the pen on the screen.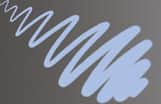 At Your Fingertips
All 16 ExpressKeys™ are customizable, giving you handy access to application-specific keyboard shortcuts and modifiers. The Show Settings key displays your current key settings on-screen.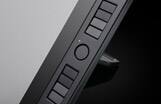 Touch and Go
Two rear-mounted, finger-sensitive Touch Strips, along with two Touch Strip Toggle buttons speed your workflow and let you comfortably control up to four functions (including zoom, scroll, brush size and canvas rotation) in each of your software applications.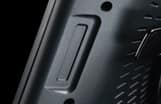 Change Your Point of View
In addition to reclining, the Cintiq 21UX freely rotates up to 180° in either direction to accommodate your arm's natural drawing movements, or to quickly change your viewing angle.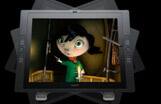 Reclines for Comfort
The Cintiq 21UX reclines from 10° to 65°, allowing you to find your most comfortable working position. The Cintiq 21UX can also easily be removed from the stand and laid flat on a tabletop or mounted on an articulating arm (not included).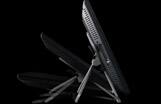 Big and Beautiful
The large, stylish 21.3″ display with its 1600 x 1200 pixel resolution, delivers both a high-quality visual experience and plenty of room to edit, design and create. Color calibrate the Cintiq to match other displays, as well as your output or printing process.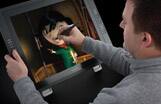 Switches, Where You Want Them
User-defined switches are preset to "right-click" and "double-click", or can be set to your most commonly- used functions.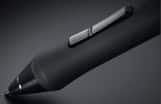 Natural Feel
The Cintiq 21UX Grip Pen features a new contoured barrel designed to minimize grip effort, reduce stress to your hand and wrist, and otherwise emulate the feel of your favorite writing instrument.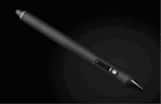 True Value
The Cintiq 21UX combines two powerful tools in one – an extra large professional pen tablet and a high-quality, color-accurate graphics monitor. The result is a tool that helps you work faster and more naturally.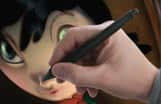 Peek Inside
The new pen stand not only functions as a convenient pen holder, but also provides a handy twist-off storage compartment containing pen nibs and a pen nib removal tool.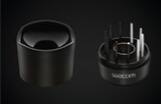 Accessorize
To complement your Cintiq, choose from a variety of accessories, including alternate pens such as the Art Pen, Airbrush or Classic Pen, as well as pen nibs and other replacement parts.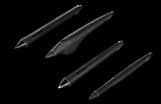 FeaturesNow you can experience all the advantages of direct pen-on-screen technology.
---
Cintiq 12WX
Performance
Wide-format LCD Display
Work on a premium wide-format 12.1″ display with WXGA (1280 x 800) resolution.
Wide Viewing Angle
The 170-degree viewing angle provides consistent color at comfortable positions and allows you to easily share work with others.
Patented Professional Pen Technology
Enhance your workflow with 1,024 levels of pressure sensitivity and 5,020 lines of resolution.
DVI, VGA and USB Connectivity
Cintiq employs standard connection options to work with all primary platforms (USB for pen input; DVI or VGA for video).
Single Integrated Cable
Keep your desktop clean and uncluttered.
Video Control Unit
Cintiq 12WX provides video, USB and power connections for compatibility with notebooks, desktops and workstations.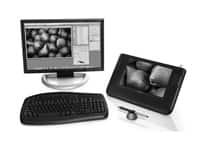 Control
Pen-on-screen Technology
Using the pen directly on screen takes advantage of natural hand-eye coordination and provides the feel of natural media, but with all the benefits of a completely digital workflow.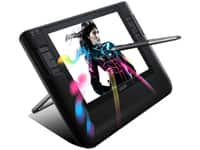 Pen Tip Power
With "pen-point" accuracy, fast cursor control, and 1,024 levels of pressure-sensitivity on the pen tip and eraser, Wacom pen technology gives you superior control over your workflow.
Display Toggle
Increased flexibility in multiple-monitor environments allows you to easily switch between screens or maximize pen control on different displays.
ExpressKeys™
Ten programmable ExpressKeys provide quick access to modifier keys, keyboard shortcuts and pop-up menus.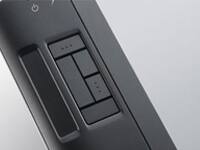 Touch Strips
Two finger-sensitive Touch Strips serve as natural ways to zoom, scroll or change brush size.
Productivity
Direct Pen-on-Screen Technology
Many Cintiq customers state that working directly on screen boosts productivity by 100% or more.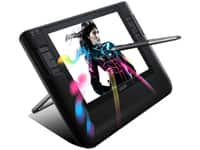 Ease of Use
Cintiq 21UX pen display is intuitive to use and quick to assimilate into your workflow.
Multi-monitor Work Environment
Optimized for use on multiple monitors, the Cintiq 12WX gives you control and precision over your work and helps you speed production in your digital workflow.
Pen and Keyboard Collaboration
Use both hands at the same time for greater speed and efficiency by combining pen input with ExpressKeys™ and Touch Strips.
Portability
With overall dimensions of 16″ W x 10.5″ H x .67″ D (40.64cm W x 26.67cm H x 1.7cm D), the wide format display packs up easily and fits into a standard laptop bag for use at home, work, the studio or client locations.
Broad Compatibility
Compatible with both Mac® and PC platforms, the Cintiq 21UX gives you the ultimate control of your configuration. It works seamlessly with your existing mouse, the Cintiq 12WX, or any Wacom pen tablet, and it can be installed as a single monitor or as part of a multi-monitor combination.